Aloha, my reader friend. Welcome to the 69th issue of Briefing Notes, a weekly newsletter that explores the well-lived midlife. I appreciate you being here. Was this email forwarded to you? Thank the awesome person then sign-up for your copy here
---
THE MAIN THING …
Rabbit holes are my thing. Which makes writing Briefing Notes a no-brainer project.
I get into a topic and find myself hours, sometimes days and weeks, deep into the many caves and burrows. In the Paleolithic age, this meant hours at Barnes & Noble and the library. These days, it's the laptop, Kindle, and increasingly, Scribd. Don't you just love tech? 🤓
A new and current obsession was sparked by a recent conversation I had with Health and Wellness Coach, Nina Manolson (also the latest episode on the podcast).
Nina helps her clients stop the war that we've been waging with food and our bodies. If you've ever felt guilty about what/how you eat or shameful about your weight, she's definitely one voice to listen to.
In our conversation, she mentioned phrases like diet culture and body shame — phrases that I understood naturally and for which I felt deep resonance in my bones.
We live in a culture that is yelling at us, screaming, hollering. Here's the ideal body. Here's what you should and shouldn't eat. It's coming at us. And so part of the work of practicing body peace is navigating the diet culture.
Nina says there's nothing wrong with wanting to lose weight, per se. But weight loss is code for something else, a placeholder of sorts for what we really want. And that it's important for us to dig in to identify what it is we're really going after… and then go after that!
So let's go for what we want and let our body just do its thing. I want to feel like I'm taking the best care of myself. I want to feel like I'm nourishing myself with food that makes me feel alive. I want to be able to be a grandmother and get down on the floor with my grandkids and get back up without hanging onto something. Great. Let's go for those things.
Predictably, I wanted to dive into this and learn more. And so the rabbit holes began.
It led me to concepts like intuitive eating… which is exceptionally interesting because it goes against the grain of everything I've ever believed about how I'm supposed to eat.
I've only just started reading the popular book "Intuitive Eating" by Tribole and Resch. I find myself simultaneously wanting to embrace the philosophy and rejecting it for an entire lifetime of learned eating gospels.
Intuitive Eating is aligned with Health at Every Size because the pursuit of intentional weight loss is a failed paradigm, which creates health problems: including weight stigma, weight cycling, and eating disorders. All bodies deserve dignity and respect.
ON THE FENCE
As with mindset shifts, changing my views on diets and eating habits will take a deliberate act. It will take more research (yippee), exposing my brain to these ideas, and reconciling the gap between new philosophies and all the ingrained shoulds.
To give myself some grace, I don't know that I will ever be a full convert. But I want to learn more about it and take from it what fits.
BOTTOM LINE
I may not (yet) be a fully converted intuitive eater, but there are clearly adjacent ideas that I 100% support. It is definitely time for us to change our relationship with our bodies. It's time for us to stop shaming ourselves for our weight or the shapes of our bodies.
Shaming rarely leads to lasting change. Talking down to ourselves won't get us to the gym.
If we want to change our bodies, then let's talk about what it is we want to gain (e.g., vitality, energy, healthier lifestyle). In case it's not clear, I wrote this section mainly as a note to self 😉
---
a great way to spend our time
With all the changes happening in the world, it has never been more critical to stay competitive. And a lifelong learning approach is the key to remaining relevant. A membership at Great Courses Plus gives you access to over 6K in-depth videos on hundreds of college-level topics. There are courses on Science, History, Wellness, Professional Photography, Cooking, Technology, and so much more.
You can give it a try for 14 days first to check out all the classes and see if it fits your needs. That's what I did!
*P.S. This is an affiliate link.
---
INTERESTINGLY…
---
MULL IT OVER
"Are you the single biggest influence in your life?" — Oprah Winfrey
---
BOOK NOTES ▿
Intuitive Eating: A Revolutionary Anti-Diet Approach
by Evelyn Tribole, RDN and Elyse Resch, RDN
Revised and updated in 2020, this classic bestseller urges readers to embrace the goal of developing body positivity and reconnecting with one's internal wisdom about eating―to unlearn everything they were taught about calorie-counting and other aspects of diet culture and to learn about the harm of weight stigma.
(This is the book I mentioned earlier in the Main Section and which I've managed to ignore — despite its apparent popularity — until this month!)
---
TALK TO ME
Are you familiar with the idea of "intuitive eating"? What has been your experience with it?
---
READER SHOUT-OUT
BN Reader Emily Kilma is a visual artist based in NYC. Emily's work is an exploration of the tension between order and chaos, with each painting showing a movement from control to letting go, and back again. Her current work is an expression of her year during the pandemic: disrupted yet elevated, disordered yet structured, challenged yet inspired.
View her work here.
Let's support each other!
---
REMEMBER THE TIME meets FUTURE TENSE
Oh.My.God.
HBO Max dropped a trailer of the much-awaited reunion of Rachel, Monica, Phoebe, Ross, Chandler, and Joey.
The one-time event airs on May 27th to honor the sitcom's 25th anniversary. The six stars reunite at the original Friends soundstage—Stage 24, at the Warner Bros. Studio — as themselves, i.e., it's not a scripted episode and they won't be playing their characters.
I don't know about you, but this GenXer is going to be watching that Gen Xer reunion!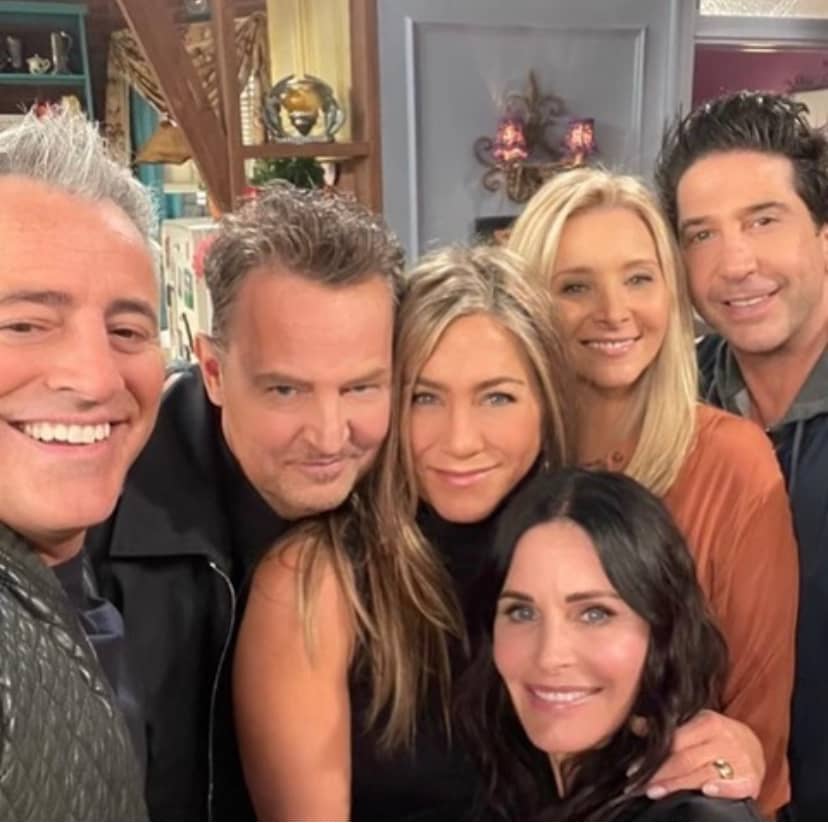 Image source: @hellosunshine
---
WHAT'S PLAYING
Achieving Body Peace with Nina Manolson
So many of us have been waging a war with our bodies for so long. Or if not exactly a war, we're not at peace with our bodies either. Whether it's the never-ending quest for weight loss or wishing our bodies looked and behaved the way they did in our 20s and 30s, we have a long list of grievances as we hack our way to a new diet yet again. There has to be a way for us to have a healthier relationship with food and our bodies.
In this episode, Nina Manolson and I talked about why gaining a healthy relationship with our bodies isn't just a solo job or a mindset thing, how we can approach the holy grail of weight loss so that we have a better chance at achieving what we really want, and how we can embrace our bodies in midlife.
Listen or read the highlights here.
---
your support means the world
Briefing Notes is researched, written, and edited by me alone. I love doing this work and your support would mean the world to me. If you like reading or find value in the newsletter, I'd so much appreciate you subsidizing my coffee habit 😊 It helps with the research and the writing!

---
LAST WORD
I ask all my podcast guests now to share their thoughts when they hear the phrase "Celebrate Midlife" — the mantra of this newsletter and the podcast.
For an upcoming episode, Shulamit Ber Levtov told me that midlife to her feels like coming home to self.
Isn't that a beautiful thing with which to view midlife? I thought it fits too, with the idea of achieving peace with our bodies once and for all.
Best wishes for a productive and easeful week.
Cool beans,
Lou Blaser